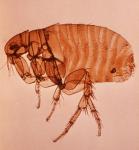 Historians tell us that in the Middle Ages about 25 million people, one third of the population of Europe, were wiped out by a series of Plagues! We now know that the cause was probably a bacteria called Yersinia Pestis that was spread by fleas when they bite their human hosts to get a meal of blood. The fleas were carried by rats and ships carried the rats from one country to another.  The unsanitary living conditions of the ports and towns at the time provided the ideal conditions for rats and fleas and, with a superstitious belief that cats were evil, without their natural predator the population of rats increased, so the population of fleas increased, so the likehood of transmission of the lethal bacteria increased, and the number of people decreased. A classic example of a chance combination of factors that together created an unstable and deadly system.
The Black Death was not eliminated by modern hi-tech medicine; it just went away when some of the factors that fuelled the instability were reduced. A tangible one being the enforced rebuilding of London after the Great Fire in Sept 1666 which gutted the medieval city and which followed the year after the last Great Plague in 1665 that killed 20% of the population. 
The story is an ideal illustration of how apparently trivial, albeit  annoying, repeated occurences can ultimately combine and lead to a catastrophic outcome.  I have a name for these apparently trivial, annoying and repeated occurences – I call them Niggles – and we are plagued by them. Every day we are plagued by junk mail, unpredictable deliveries, peak time traffic jams, car parking, email storms, surly staff, always-engaged call centres, bad news, bureaucracy, queues, confusion, stress, disappointment, depression. Need I go on?  The Plague of Niggles saps our spirit just as the Plague of Fleas sucked our ancestors blood.  And the Plague of Niggles infect us with a life-limiting disease – not a rapidly fatal one like the Black Death – instead we are infected with a slow, progressive, wasting disease that affects our attitude and behaviour and which manifests itself as criticism, apathy and cynicism.  A disease that seems as terifying, mysterious and incurable to us today as the Plague was to our ancestors. 
History repeats itself and we now know that complex systems behave in characteristic ways – so our best strategy may the same – prevention. If we use the lesson of history as our guide we should be proactive and focus our attention on the Niggles. We should actively seek them out; see them for what they really are; exercise our amazing ability to understand and solve them; and then share the nuggets of new knowledge that we generate.
Seek-See-Solve-Share.