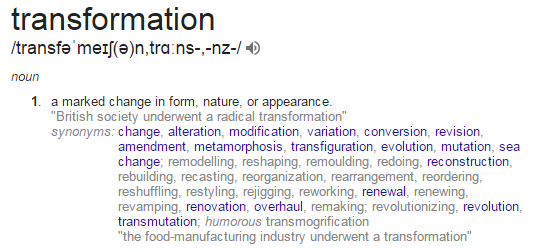 It has been another interesting week.  A bitter-sweet mixture of disappointment and delight. And the central theme has been 'transformation'.
---
The source of disappointment was the newsreel images of picket lines of banner-waving junior doctors standing in the cold watching ambulances deliver emergencies to hospitals now run by consultants.
So what about the thousands of elective appointments and operations that were cancelled to release the consultants? If the NHS was failing elective delivery time targets before it is going to be failing them even more now. And who will pay for the "waiting list initiatives" needed to just catch up? Depressing to watch.
The mercurial Roy Lilley summed up the general mood very well in his newsletter on Thursday, the day after the strike.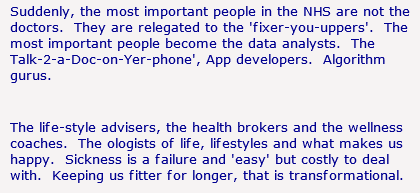 What he is saying is we do not have a health care system, we have a sick care system.  Which is the term coined by the acclaimed systems thinker, the late Russell Ackoff (see the video about half way down).
We aspire to a transformation-to-better but we only appear to be able to achieve a transformation-to-worse. That is depressing.
---
My source of delight was sharing the stories of those who are stepping up and are transforming themselves and their bits of the world; and how they are doing that by helping each other to learn "how to do it" – a small bite at a time.
Here is one excellent example: a diagnostic study looking at the root cause of the waiting time for school-age pupils to receive a health-protecting immunisation.
---
So what sort of transformation does the NHS need?
A transformation in the way it delivers care by elimination of the fragmentation that is the primary cause of the distrust, queues, waits, frustration, chaos and ever-increasing costs?
A transformation from purposeless and reactive; to purposeful and proactive?
A transformation from the disappointment that flows from the mismatch between intent and impact; to the delight that flows from discovering that there is a way forward; that there is a well understood science that underpins it; and a growing body of evidence that proves its effectiveness.  The Science of Improvement.
---
In  a recent blog I shared the story of how it is possible to 'melt queues' or more specifically how it is possible to teach anyone, who wants to learn, how to melt queues.
It is possible to do this for an outpatient clinic in one day.
So imagine what could happen if just 1% of consultants decided improve their outpatient clinics using this quick-and-easy-to-learn-and-apply method?  Those courageous and innovative consultants who are not prepared to drown in the  Victim Vortex of despair and cynicism.  And what could happen if they shared their improvement stories with their less optimistic colleagues?  And what could happen if a just a few of them followed the lead of the innovators?
Would that be a small transformation?  Or the start of a much bigger one? Or both?