"Those who cannot remember the past are condemned to repeat it".
Aphorism by George Santayana, philosopher (1863-1952).
And the history of quality improvement (QI) is worth reflecting on, because there is massive pressure to grow QI capability in health care as a way of solving some chronic problems.
The chart below is a Google Ngram, it was generated using some phrases from the history of Quality Improvement:
TQM = the total quality management movement that grew from the work of Walter Shewhart in the 1920's and 30's and was "incubated" in Japan after being transplanted there by Shewhart's student W. Edwards Deming in the 1950's.
ISO 9001 = an international quality standard first published in 2000 that developed from the British Standards Institute (BSI) in the 1970's via ISO 9000 that was first published in 1987.
Six Sigma = a highly statistical quality improvement / variation reduction methodology that originated in the rapidly expanding semiconductor industry in the 1980's.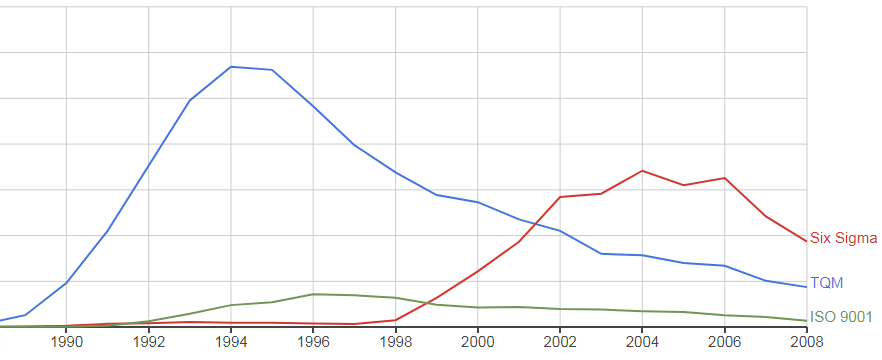 The rise-and-fall pattern is characteristic of how innovations spread; there is a long lag phase, then a short accelerating growth phase, then a variable plateau phase and then a long, decelerating decline phase.
It is called a life-cycle. It is how complex adaptive systems behave. It is how innovations spread. It is expected.
So what happened?
Did the rise of TQM lead to the rise of ISO 9000 which triggered the development of the Six Sigma methodology?
It certainly looks that way.
So why is Six Sigma "dying"?  Or is it just being replaced by something else?
---
This is the corresponding Ngram for "Healthcare Quality Improvement" which seems to sit on the timeline in about the same place as ISO 9001 and that suggests that it was triggered by the TQM movement. 

The Institute of Healthcare Improvement (IHI) was officially founded in 1991 by Dr Don Berwick, some years after he attended one of the Deming 4-day workshops and had an "epiphany".

Don describes his personal experience in a recent plenary lecture (from time 01:07).  The whole lecture is worth watching because it describes the core concepts and principles that underpin QI.
---
So given the fact that safety and quality are still very big issues in health care – why does the Ngram above suggest that the use of the term Quality Improvement does not sustain?
Will that happen in healthcare too?
Could it be that there is more to improvement than just a focus on safety (reducing avoidable harm) and quality (improving patient experience)?
Could it be that flow and productivity are also important?
The growing angst that permeates the NHS appears to be more focused on budgets and waiting-time targets (4 hrs in A&E, 63 days for cancer, 18 weeks for scheduled care, etc.).
Mortality and Quality hardly get a mention any more, and the nationally failed waiting time targets are being quietly dropped.
Is it too politically embarrassing?
Has the NHS given up because it firmly believes that pumping in even more money is the only solution, and there isn't any more in the tax pot?
---
This week another small band of brave innovators experienced, first-hand, the application of health care systems engineering (HCSE) to a very common safety, flow, quality and productivity problem …
… a chronically chaotic clinic characterized by queues and constant calls for more capacity and cash.
They discovered that the queues, delays and chaos (i.e. a low quality experience) were not caused by lack of resources; they were caused by flow design.  They were iatrogenic.  And when they applied the well-known concepts and principles of scheduling design, they saw the queues and chaos evaporate, and they measured a productivity increase of over 60%.
OMG!
Improvement science is more than just about safety and quality, it is about flow and productivity as well; because we all need all four to improve at the same time.
And yes we need all the elements of Deming's System of Profound Knowledge (SoPK), but need more than that.  We need to harness the knowledge of the engineers who for centuries have designed and built buildings, bridges, canals, steam engines, factories, generators, telephones, automobiles, aeroplanes, computers, rockets, satellites, space-ships and so on.
We need to revisit the legacy of the engineers like Watt, Brunel, Taylor, Gantt, Erlang, Ford, Forrester and many, many others.
Because it does appear to be possible to improve-by-design as well as to improve-by-desire.
Here is the Ngram with "Systems Engineering" (SE) added and the time line extended back to 1955.  Note the rise of SE in the 1950's and 1960's and note that it has sustained.
That pattern of adoption only happens when something is proven to be fit-4-purpose, and is valued and is respected and is promoted and is taught.

What opportunity does systems engineering offer health care?
That question is being actively explored … here.