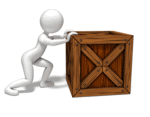 Getting started on improvement is not easy.
It feels like we have to push a lot to get anywhere and when we stop pushing everything just goes back to where it was before and all our effort was for nothing.
And it is easy to become despondent.  It is easy to start to believe that improvement is impossible. It is easy to give up. It is not easy to keep going.
---
One common reason for early failure is that we often start by  trying to improve something that we have little control over. Which is natural because many of the things that niggle us are not of our making.
But not all Niggles are like that; there are also many Niggles over which we have almost complete control.
It is these close-to-home Niggles that we need to start with – and that is surprisingly difficult too – because it requires a bit of time-investment.
---
The commonest reason for not investing time in improvement is: "I am too busy."
Q: Too busy doing what – specifically?
This simple question is  a  good place to start because just setting aside a few minutes each day to reflect on where we have been spending our time is a worthwhile task.
And the output of our self-reflection is usually surprising.
We waste lifetime every day doing worthless work.
Then we complain that we are too busy to do the worthwhile stuff.
Q: So what are we scared of? Facing up to the uncomfortable reality of knowing how much lifetime we have wasted already?
We cannot change the past. We can only influence the future. So we need to learn from the past to make wiser choices.
---
Lifetime is odd stuff.  It both is and is not like money.
We can waste lifetime and we can waste money. In that  respect they are the same. Money we do not use today we can save for tomorrow, but lifetime not used today is gone forever.
We know this, so we have learned to use up every last drop of lifetime – we have learned to keep ourselves busy.
And if we are always busy then any improvement will involve a trade-off: dis-investing and re-investing our lifetime. This implies the return on our lifetime re-investment must come quickly and predictably – or we give up.
---
One tried-and-tested strategy is to start small and then to re-invest our time dividend in the next cycle of improvement.  An if we make wise re-investment choices, the benefit will grow exponentially.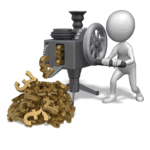 Successful entrepreneurs do not make it big overnight.
If we examine their life stories we will find a repeating cycle of bigger and bigger business improvement cycles.
The first thing successful entrepreneurs learn is how to make any investment lead to a return – consistently. It is not luck.  They practice with small stuff until they can do it reliably.
Successful entrepreneurs are disciplined and they only take calculated risks.
Unsuccessful entrepreneurs are more numerous and they have a different approach.
They are the get-rich-quick brigade. The undisciplined gamblers. And the Laws of Probability ensure that they all will fail eventually.
Sustained success is not by chance, it is by design.
The same is true for improvement.  The skill to learn is how to spot an opportunity to release some valuable time resource by nailing a time-sapping-niggle; and then to reinvest that time in the next most promising cycle of improvement  – consistently and reliably.  It requires discipline and learning to use some novel tools and techniques.
This is where Improvement Science helps – because the tools and techniques apply to any improvement. Safety. Flow. Quality. Productivity. Stability. Reliability.
In a nutshell … trustworthy.
---
The first step looks the steepest because the effort required feels high and the benefit gained looks small.  But it is climbing the first step that separates the successful from the unsuccessful. And successful people are self-disciplined people.
After a few invest-release-reinvest cycles the amount of time released exceeds the amount needed to reinvest. It is then we have time to spare – and we can do what we choose with that.
Ask any successful athlete or entrepreneur – they keep doing it long after they need to – just for the "rush" it gives them.
---
The tool I use, because it is quick, easy and effective, is called The 4N Chart®.  And it has a helpful assistant called a Niggle-o-Gram®.   Together they work like a focusing lens – they show where the most fertile opportunity for improvement is – the best return on an investment of time and effort.
And when we have proved to yourself that the first step of improvement is not as steep as you believed – then we have released some time to re-invest in the next cycle of improvement – and in sharing what we have discovered.
That is where the big return comes from.
10/11/2012: Feedback from people who have used The 4N Chart and Niggle-o-Gram for personal development is overwhelmingly positive.