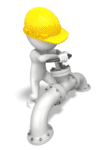 All intentional improvement implies change. Change requires deliberate action – thinking about change is not enough. Action implies control of physical objects and, despite what we might like to believe, the only things that are under our personal control are our beliefs, our attitudes, our behaviours and our actions. Everything else can only be changed through some form of indirect influence.
Our Circle of Control appears to extends only to our skin – beyond that is our Sphere of Influence – and beyond that is our Region of Concern.
Very few of us live a solitary existence as a hermit. The usual context for improvement is social and therefore to achieve improvement outside ourselves we need to influence the beliefs, attitudes, behaviours and actions of others. And we can only do that through our own behaviour and actions. We cannot do telepathy or mind-control.  And remember, we are being influenced by others – it is a two-way street.
So when we receive a push-back to our attempted change-for-the-better action, we have failed to influence in a positive sense and the intended improvement cannot happen.  Those who oppose our innovation usually belong to one of two tribes – the Skeptics and the Cynics – and they have much in common.  They both operate from a position of doubt and a belief that they are being deliberately deceived. They distrust, discount, question, analyse, critique and they challenge. They do not blindly believe our rhetoric.

This is not new. These two tribes are thousands of years old – the Ancient Greeks knew them well and gave them the names Skeptics and Cynics. They were the Lords of the Dark Ages but they survived the Renaissance and the first skeptical hypothesis in modern Western philosophy is attributed to Rene Descartes who wrote "I will suppose … that some evil demon of the utmost power and cunning has employed all his energies to deceive me."
The two tribes present the Innovator and Improvement Scientist with a dilemma. Before action there is only rhetoric, only an idea, only a belief that better is possible. There is no evidence of improvement yet – so no reality to support the rhetoric. And if the action requires the engagement or permission of either of the two tribes then the change will not happen because it is impossible to influence their belief and behaviour without evidence. We have crashed into the wall of resistance – and the harder we push the harder they push back.  So let us conserve our energy, step back from the wall, reflect for a moment and ask "Does the wall surround us completely – or are there gaps?"
Could we find a region of the Sphere of Influence that has few or no Skeptics and Cynics? Is there a place where they do not like to live because the cultural climate is not to their taste? We have an option – we can explore the Sphere of Influence.
At one pole we discover a land called Apathy. It is a barren place where nothing changes; it is devoid of ideas and innovation; it is passionless, monotonous, stable, predictable, safe and boring.  The Skeptics and Cynics do not like it there because there is none of their favourite food – Innovator Passion – which is where they derive their energy and their sport.
At the other pole we discover a land called Assertion – and we discover that the Skeptics and Cynics do not like it there either but for a different reason. In Assertion there is abundant passion and innovation, but also experimentation and reflection and the ideas are fewer but come packaged with a tough shell of hard evidence. This makes them much less palatable to the Skeptics because  they have to chew hard for little gain. The Cynics shun the place.
At the end of our journey we have learned that the two tribes prefer to live in the temperate zone between Apathy and Assertion where there is an abundant supply of innocent, passionate, innovators with new ideas and no evidence. The Skeptics and Cynics frustrate the inexperienced Innovators who become inflamed with passion which is what the two tribes feed on, and when finally exhausted the Innovators fall easy prey to the Cynics – who convert and enslave them. It is a veritable feeding frenzy – and the ultimate casuality is improvement.
So what is the difference between the Skeptics and the Cynics?
Despite their behaviour the Skeptics do care – they are careful. They are the guardians of stability and their opinion is respected because they help to keep the Sphere safe. They are willing to be convinced – but they want explanation and evidence. Rhetoric is not enough.
The Cynics follow a different creed. Their name derives from the Greek for dog and it is not a term of endearment. They have lost their dreams. They blame others for it and their goal is vengeance. They are remorseless, and shameless. They shun social norms and reasonable behaviour and they are not respected by others. They do not care. They are indifferent.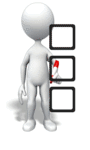 So the wise Improvement Scientist needs to be able to distinguish the Skeptics from the Cynics – and to learn to value the strengths of the Skeptics and to avoid the Cynics. The deal they negotiate with the Skeptics is: "In return for a steady supply of ideas and enthusiasm we ask only for an explanation of the rejections". It is a fair trade. The careful and considered feedback of the Skeptics is valuable to the Improvement Scientist because it helps to sharpen the idea and harden the shell of evidence. Once the Innovator, Improvement Scientist and the Skeptic have finished their work any ideas that have survived the digestive process are worthy of investment.  It is a a win-win-win arrangement – everyone gets what they want.
The Cynics scavenge the scraps. And that is OK – it is their choice.