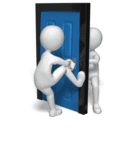 It is surprising how competitive most people are. We are constantly comparing ourselves with others and using what we find to decide what to do next. Groan or Gloat.  Chase or Cruise.
This is because we are social animals.  Comparing with other is hard-wired into us. We have little choice.
But our natural competitive behaviour can become counter-productive when we learn that we can look better-by-comparison if we block or trip-up our competitors.  In a vainglorious attempt to make ourselves look better-by-comparison we spike the wheels of our competitors' chariots.  We fight dirty.
It is not usually openly aggressive fighting.  Most of our spiking is done passively. Often by deliberately not doing something.  A deliberate act of omission.  And if we are challenged we often justify our act of omission by claiming we were too busy.
This habitual passive-aggressive learned behaviour is not only toxic to improvement, it creates a toxic culture too. It is toxic to everything.
And it ensures that we stay stuck in The Miserable Job Swamp.  It is a bad design.
So we need a better one.
One idea is to eliminate competition.  This sounds plausible but it does not work. We are hard-wired to compete because it has proven to be a very effective long term survival strategy. The non-competitive have not survived.  To be deliberately non-competitive will guarantee mediocrity and future failure.
A better design is to leverage our competitive nature and this is surprisingly easy to do.
We flip the "battle" into a "race".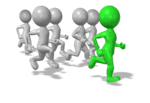 To do that we need:
1) A clear destination – a shared common purpose – that can be measured. We need to be able to plot our progress using objective evidence.
2) A proven, safe, effective and efficient route plan to get us to our destination.
3) A required arrival time that is realistic.  Open-ended time-scales do not work.
4) Regular feedback to measure our individual progress and to compare ourselves with others.  Selective feedback is ineffective.  Secrecy or anonymous feedback is counter-productive at best and toxic at worst.
5) The ability to re-invest our savings on all three win-win-win dimensions: emotional, temporal and financial.  This fuels the engine of improvement. Us.
The rest just happens – but not by magic – it happens because this is a better Improvement-by-Design.