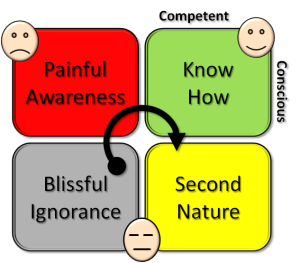 This week I was made mindful again of a simple yet powerful model that goes a long way to explaining why we find change so difficult.
It is the conscious-competent model.
There are two dimensions which gives four combinations that are illustrated in the diagram.
We all start in the bottom left corner. We do not know what we do not know.  We are ignorant and incompetent and unconscious of the  fact.
Let us call that Blissful Ignorance.
Then suddenly we get a reality check. A shock. A big enough one to start us on the emotional roller coaster ride we call the Nerve Curve.
We become painfully aware of our ignorance (and incompetence). Conscious of it.
That is not a happy place to be and we have a well-developed psychological first line of defence to protect us. It is called Denial.
"That's a load of rubbish!" we say.
But denial does not change reality and eventually we are reminded. Reality does not go away.
Our next line of defence is to shoot the messenger. We get angry and aggressive.
"Who the **** are you to tell me that I do not know what I am doing!" we say.
Sometimes we are openly aggressive.  More often we use passive aggressive tactics. We resort to below-the-belt behind-the-back corridor-gossip behaviour.
But that does not change reality either.  And we are slowly forced to accept that we need to change. But not yet …
Our next line of defence is to bargain for more time (in the hope that reality will swing back in our favour).
"There may be something in this but I am too busy at the moment … I will look at this  tomorrow/next week/next month/after my holiday/next quarter/next financial year/in my next job/when I retire!" we wheedle.
Our strategy usually does not work – it just wastes time – and while we prevaricate the crisis deepens. Reality is relentless.
Our last line of defence has now been breached and now we sink into depression and despair.
"It is too late. Too difficult for me. I need rescuing. Someone help me!" we wail.
That does not work either. There is no one there. It is up to us. It is sink-or-swim time.
What we actually need now is a crumb of humility.
And with that we can start on the road to Know How. We start by unlearning the old stuff and then we can  replace it with the new stuff.  Step-by-step we climb out of the dark depths of Painful Awareness.
And then we get a BIG SURPRISE.
It is not as difficult as we assumed. And we discover that learning-by-doing is fun. And we find that demonstrating to others what we are learning is by far the most effective way to consolidate our new conscious competence.
And by playing to our strengths, with persistence, with practice and with reality-feedback our new know how capability gradually becomes second nature. Business as usual. The way we do things around here. The culture.
Then, and only then, will the improvement sustain … and spread … and grow.