[Beep Beep] Bob tapped the "Answer" button on his smartphone – it was Lesley calling in for their regular ISP coaching session.
<Bob>Hi Lesley. How are you today? And which tunnel in the ISP Learning Labyrinth shall we explore today?
<Lesley>Hi Bob. I am OK thank you. Can we invest some time in the Engagement Maze?
<Bob>OK. Do you have a specific example?
<Lesley>Sort of. This week I had a conversation with our Chief Executive about the potential of Improvement Science and the reply I got was "I am convinced by what you say but it is your colleagues who need to engage. If you have not succeeded in convincing them then how can I?" I was surprised by that response and slightly niggled because it had an uncomfortable nugget of truth in it.
<Bob>That sounds like the wisdom of a leader who understands that the "power" to make things happen does not sit wholly in the lap of those charged with accountability.
<Lesley> I agree.  And at the same time everything that the "Top Team" suggest gets shot down in flames by a small and very vocal group of my more skeptical colleagues.
<Bob>Ah ha!  It sounds like the Victim Vortex is causing trouble here.
<Lesley>The Victim Vortex?
<Bob>Yes.  Let me give you an example.  One of the common initiators of the Victim Vortex is the data flow part of a complex system design.  The Sixth Flow.  So can I ask you: "How are new information systems developed in your organization?"
<Lesley>Wow!  You hit the nail on the head first time!  Just this week there has been another firestorm of angry emails triggered by yet another silver-bullet IT system being foisted on us!
<Bob>Interesting use of language Lesley.  You sound quite "niggled".
<Lesley>I am.  Not by the constant "drizzle of IT magic" – that is irritating enough – but more by the vehemently cynical reaction of my peers.
<Bob>OK.  This sounds like good enough example of the Victim Vortex.  What do you expect the outcome will be?
<Lesley>Well, if past experience is a predictor for future performance – an expensive failure, more frustration and a deeper well of cynicism.
<Bob>Frustrating for whom?
<Lesley>Everyone.  The IT department as well.  It feels like we are all being sucked into a lose-lose-lose black hole of depression and despair!
<Bob>A very good description of the Victim Vortex.
<Lesley>So the Victim Vortex is an example of the Drama Triangle acting on an organizational level?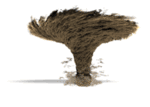 <Bob>Yes. Visualize a cultural tornado.  The energy that drives it is the emotional  currency spent in playing the OK – Not OK Games.  It is a self-fueling system, a stable design, very destructive and very resistant to change.
<Lesley>That metaphor works really well for me!
<Bob>A similar one is a whirlpool – a water vortex.  If you were out swimming and were caught up in a whirlpool what are your exit strategy options?
<Lesley>An interesting question.  I have never had that experience and would not want it – it sounds rather hazardous.  Let me think.  If I do nothing I will just get swept around in the chaos and I am at risk of  getting bashed, bruised and then sucked under.
<Bob>Yes – you would probably spend all your time and energy just treading water and dodging the flotsam and jetsam that has been sucked into the Vortex.  That is what most people do.  It is called the Hamster Wheel effect.
<Lesley>So another option is to actively swim towards the middle of the Vortex – the end would at least be quick! But that is giving up and adopting the Hopelessness attitude of burned out Victim.  That would be the equivalent of taking voluntary redundancy or early retirement.  It is not my style!
<Bob>Yes.  It does not solve the problem either.  The Vortex is always hoovering up new Victims.  It is insatiable.
<Lesley> And another option would be to swim with the flow to avoid being "got" from behind.  That would be seem sensible and is possible; and at least I would feel better for doing something. I might even escape if I swim fast enough!
<Bob>That is indeed what some try.  The movers and shakers.  The pace setters.  The optimists.  The extrovert leaders.  The problem is that it makes the Vortex spin even faster.  It actually makes the Vortex bigger,  more chaotic and more dangerous than before.
<Lesley>Yes – I can see that.  So my other option is to swim against the flow in an attempt to slow the Vortex down.  Would that work?
<Bob>If everyone did that at the same time it might but that is unlikely to happen spontaneously.  If you could achieve that degree of action alignment you would not have a Victim Vortex in the first place.  Trying to do it alone is ineffective, you tire very quickly, the other Victims bash into you, you slow them down, and then you all get sucked down the Plughole of Despair.
<Lesley>And I suppose a small group of like-minded champions who try to swim-against the flow might last longer if they stick together but even then eventually they would get bashed up and broken up too.  I have seen that happen.  And that is probably where our team are heading at the moment.  I am out of options.  Is it impossible to escape the Victim Vortex?
<Bob>There is one more direction you can swim.
<Lesley>Um?  You mean across the flow heading directly away from the center?
<Bob>Exactly.  Consider that option.
<Lesley>Well, it would still be hard work and I would still be going around with the Vortex and I would still need to watch out for flotsam but every stroke I make would take me further from the center.  The chaos would get gradually less and eventually I would be in clear water and out of danger.  I could escape the Victim Vortex!
<Bob>Yes. And what would happen if others saw you do that and did the same?
<Lesley>The Victim Vortex would dissipate!
<Bob>Yes.  So that is your best strategy.  It is a win-win-win strategy too. You can lead others out of the Victim Vortex.
<Lesley>Wow!  That is so cool!  So how would I apply that metaphor to the Information System niggle?
<Bob>I will leave you to ponder on that.  Think about it as a design assignment.  The design of the system that generates IT solutions that are fit-for-purpose.
<Lesley> Somehow I knew you were going to say that!  I have my squared-paper and sharpened pencil at the ready.  Yes – an improvement-by-design assignment.  Thank you once again Bob.  This ISP course is the business!