This recent tweet represents a significant milestone.  It formally recognises and celebrates in public the impact that developing health care systems engineering (HCSE) capability has had on the culture of the organisation.
What is also important is that the HCSE training was not sought and funded by the Trust, it was discovered by chance and funded by their commissioners, the local clinical commissioning group (CCG).
---
The story starts back in the autumn of 2017 and, by chance, I was chatting with Rob, a friend-of-a-friend, about work. As you do. It turned out that Rob was the CCG Lead for Unscheduled Care and I was describing how HCSE can be applied in any part of any health care system; primary care, secondary care, scheduled, unscheduled, clinical, operational or whatever.  They are all parts of the same system and the techniques and tools of improvement-by-design are generic.  And I described lots of real examples of doing just that and the sustained improvements that had followed.
So he asked "If you were to apply this approach to unscheduled care in a large acute trust how would you do it?".  My immediate reply was "I would start by training the front line teams in the HCSE Level 1 stuff, and the first step is to raise awareness of what is possible.  We do that by demonstrating it in practice because you have to see it and experience it to believe it."
And so that is what we did.
The CCG commissioned a one-year HCSE Level 1 programme for four teams at University Hospitals of North Midlands (UHNM) and we started in January 2018 with some One Day Flow Workshops.
The intended emotional effect of a Flow Workshop is surprise and delight.  The challenge for the day is to start with a simulated, but very realistic, one-stop outpatient clinic which is chaotic and stressful for everyone.  And with no prior training the delegates transform it into a calm and enjoyable experience using the HCSE approach.  It is called emergent learning.  We have run dozens of these workshops and it has never failed.
After directly experiencing HCSE working in practice the teams that stepped up to the challenge were from ED, Transformation, Ambulatory Emergency Care and Outpatients.
---
The key to growing HCSE capability is to assemble small teams, called micro-system design teams (MSDTs) and to focus on causes that fall inside their circle of control.
The MSDT sessions need to be regular, short, and facilitated by an experienced HCSE who has seen it, done it and can teach it.
In UHNM, the Transformation team divided themselves between the front-line teams and they learned HCSE together.  Here's a picture of the ED team … left to right we have Alex, Mark and Julie (ED consultants) then Steve and Janina (Transformation).  The essential tools are a big table, paper, pens, notebooks, coffee and a laptop/projector.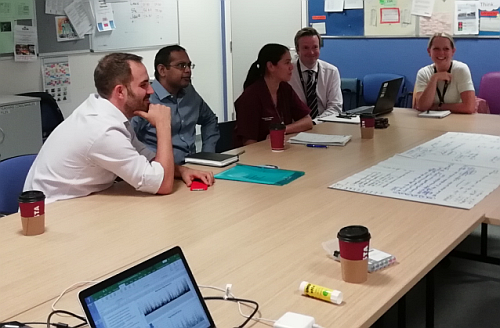 The purpose of each session is empirical learning-by-doing i.e. using a real improvement challenge to learn and practice the method so that before the end of the programme the team can confidently "fly" solo.
That is the key to continued growth and sustained improvement.  The HCSE capability needs to become embedded.
It is good fun and immensely rewarding to see the "ah ha" moments and improvements happen as the needle on the emotometer moves from "Can't Do" to "Can Do".
Metamorphosis is re-arranging what you already have in a way that works better.
---
The tweet is objective evidence that demonstrates the HCSE programme delivers as designed.  It is fit-for-purpose.  It is called validation.
The other objective evidence of effectiveness comes from the learning-by-doing projects themselves.  And for an individual to gain a coveted HCSE Level 1 Certificate of Competency requires writing up to a publishable quality and sharing the story. Warts-and-all.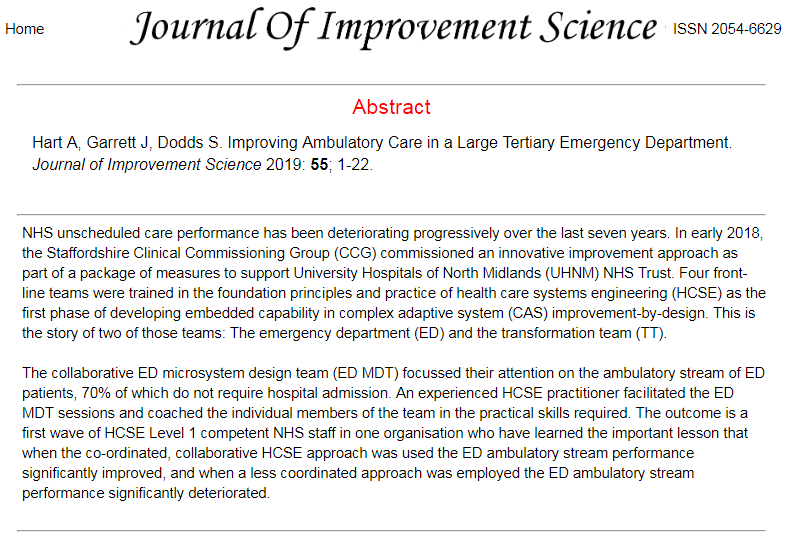 To read the full story of just click here
And what started this was the CCG who had the strategic vision, looked outside themselves for innovative approaches, and demonstrated the courage to take a risk.
Commissioned Improvement.