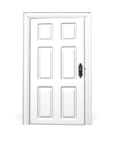 We spend a lot of time in a state of anxiety and fear. It is part and parcel of life because there are many real threats that we need to detect and avoid.
For our own safety and survival.
Unfortunately there are also many imagined threats that feel just as real and just as terrifying.
In these cases it is our fear that does the damage because it paralyses our decision making and triggers our 'fright' then 'fight' or 'flight' reaction.
Fear is not bad … the emotional energy it releases can be channelled into change and improvement. Just as anger can.
---
So we need to be able to distinguish the real fears from the imaginary ones. And we need effective strategies to defuse the imaginary ones.  Because until we do that we will find it very difficult to listen, learn, experiment, change and improve.
So let us grasp the nettle and talk about a dozen universal fears …
Fear of dying before one's time.
Fear of having one's basic identity questioned.
Fear of poverty or loss of one's livelihood.
Fear of being denied one's fundamental rights and liberties.
Fear of being unjustly accused of wrongdoing.
Fear of public humiliation.
Fear of being unjustly seen as lacking character.
Fear of being discovered as inauthentic – a fraud.
Fear of radical change.
Fear of feedback.
Fear of failure.
Fear of the unknown.
Notice that some of these fears are much 'deeper' than others … this list is approximately in depth order. Some relate to 'self'; some relate to 'others' and all are inter-related to some degree. Fear of failure links to fear of humiliation and to fear of loss-of-livelihood.
---
Of these the four that are closest to the surface are the easiest to tackle … fear of radical change, fear of feedback, fear of failure, and fear of the unknown.  These are the Four Fears that block personal improvement.
---
Fear of the unknown is the easiest to defuse. We just open the door and look … from an emotionally safe distance so that we can run away if our worst fears are realised … which does not happen when the fear is imagined.
This is an effective strategy for defusing the emotionally and socially damaging effects of self-generated phobias.
And we find overcoming fear-of-the-unknown exhilarating … that is how theme parks and roller-coaster rides work.
First we open our eyes, we look, we see, we observe, we reflect, we learn and we convert the unknown to the unfamiliar and then to the familiar. We may not conquer our fear completely … there may be some reasonable residual anxiety … but we have learned to contain it and to control it. We have made friends with our inner Chimp. We climb aboard the roller coaster that is called 'life'.
---
Fear of failure is next.  We defuse this by learning how to fail safely so that we can learn-by-doing and by that means we reduce the risk of future failures. We make frequent small safe failures in order to learn how to avoid the rare big unsafe ones!
Many people approach improvement from an academic angle. They sit on the fence. They are the reflector-theorists. And this may because they are too fearful-of-failing to learn the how-by-doing. So they are unable to demonstrate the how and their fear becomes the fear-of-fraud and the fear-of-humiliation. They are blocked from developing their pragmatist/activist capability by their self-generated fear-of-failure.
So we start small, we stay focussed, we stay inside our circle of control, and we create a safe zone where we can learn how to fail safely – first in private and later in public.
One of the most inspiring behaviours of an effective leader is the courage to learn in public and to make small failures that demonstrate their humility and humanity.
Those who insist on 'perfect' leaders are guaranteed to be disappointed.
---
And one thing that we all fail repeatedly is to ask for, to give and to receive effective feedback. This links to the deeper fear-of-humiliation.
And it is relatively easy to defuse this fear-of-feedback too … we just need a framework to support us until we find our feet and our confidence.
The key to effective feedback is to make it non-judgemental.
And that can only be done by developing our ability to step back and out of the Drama Triangle and to cultivate an I'm OK- You're OK  mindset.
The mindset of mutual respect. Self-respect and Other-respect.
And remember that Other-respect does not imply trust, alignment, agreement, or even liking.
Sworn enemies can respect each other while at the same time not trusting, liking or agreeing with each other.
Judgement-free feedback (JFF) is a very effective technique … both for defusing fear and for developing mutual respect.
And from that foundation radical change becomes possible, even inevitable.