As we approach the end of 2018 it is a good time to look back and reflect on what has happened this year.
It has been my delight to have had the opportunity to work with front-line teams at University Hospital of North Midlands (UHNM) and to introduce them to the opportunity that health care systems engineering (HCSE) offers.
This was all part of a coordinated, cooperative strategy commissioned by the Staffordshire Clinical Commissioning Groups, and one area we were asked to look at was unscheduled care.
It was not my brief to fix problems.  I was commissioned to demonstrate how a systems engineer might approach them.  The first step was to raise awareness, then develop some belief and then grow some embedded capability – in the system itself.
The rest was up to the teams who stepped up to the challenge.  So what happened?
Winter is always a tough time for the NHS and especially for unscheduled care so let us have a look  and compare UHNM with NHS England as a whole – using the 4 hour A&E target yield – and over a longer time period of 7 years (so that we can see some annual cycles and longer term trends).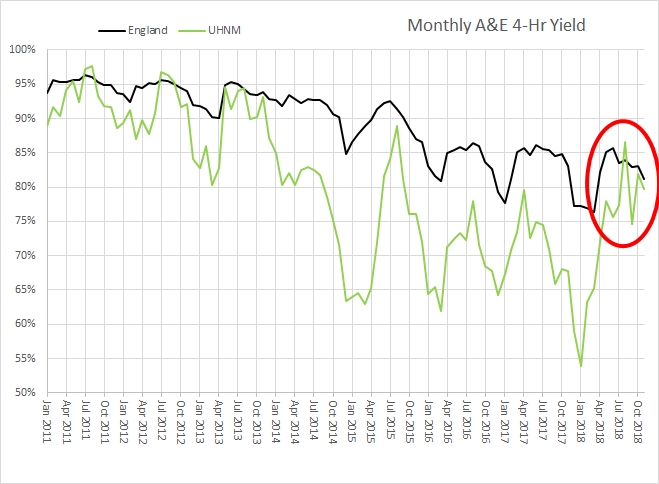 The A&E performance for the NHS in England as whole has been deteriorating at an accelerating pace over the 7 years.  This is a system-wide effect and there are a multitude of plausible causes.
The current UHNM system came into being at the end of 2014 with the merger of the Stafford and Stoke Hospital Trusts – and although their combined A&E performance dropped below average for England – the chart above shows that it did not continue to slide.
The NHS across the UK had a very bad time in the winter of 2017/18 – with a double whammy of sequential waves of Flu B and Flu A not helping!
But look at what happened at UHNM since Feb 2018.  Something has changed for the better and this is a macro system effect.  There has been a positive deviation from the expectation with about a 15% improvement in A&E 4-hr yield.  That is outstanding!
Now, I would say that news is worth celebrating and shouting "Well done everyone!" and then asking "How was that achieved?" and "What can we all learn that we can take forward into 2019 and build on?"
Merry Christmas.