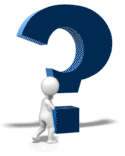 One of the questions we all ask ourselves, perhaps unconsciously, when we are considering change is: "What is in it for me?"
And if we do not get a convincing enough answer, quickly enough, we move on.
Effective sales people know this, and anyone needing to engage and influence others needs to as well.
---
One approach is to ask the same questions as the person we seek to influence are asking themselves, perhaps unconsciously.
So if you have an interest in healthcare improvement … see if these questions resonate with you.