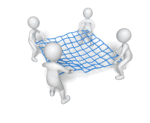 It is almost autumn again.  The new school year brings anticipation and excitement. The evenings are drawing in and there is a refreshing chill in the early morning air.
This is the time of year for fudge.
Alas not the yummy sweet sort that Grandma cooked up and gave out as treats.
In healthcare we are already preparing the Winter Fudge – the annual guessing game of attempting to survive the Winter Pressures. By fudging the issues.
This year with three landmark Safety and Quality reports under our belts we have more at stake than ever … yet we seem as ill prepared as usual. Mr Francis, Prof Keogh and Dr Berwick have collectively exhorted us to pull up our socks.
So let us explore how and why we resort to fudging the issues.
Watch the animation of a highly simplified emergency department and follow the thoughts of the manager. You can pause, rewind, and replay as much as you like.  Follow the apparently flawless logic – it is very compelling. The exercise is deliberately simplified to eliminate wriggle room. But it is valid because the behaviour is defined by the Laws of Physics – and they are not negotiable.
The problem was combination of several planning flaws – two in particular.
First is the "Flaw of Averages" which is where the past performance-over-time is boiled down to one number. An average. And that is then used to predict precise future behaviour. This is a very big mistake.
The second is the "Flaw of Fudge Factors" which is a attempt to mitigate the effects of first error by fudging the answer – by adding an arbitrary "safety margin".
This pseudo-scientific sleight-of-hand may polish the planning rhetoric and render it more plausible to an unsuspecting Board – but it does not fool Reality.
In reality the flawed design failed – as the animation dramatically demonstrated.  The simulated patients came to harm. Unintended harm to be sure – but harm nevertheless.
So what is the alternative?
The alternative is to learn how to avoid Sir Flaw of Averages and his slippery friend Mr Fudge Factor.
And learning how to do that is possible … it is called Improvement Science.
And you can start right now … click HERE.